(Last Updated On: September 14, 2023)
What are some of the best foods for arthritis and joint pain? Arthritis, a condition that impacts countless lives, ushers in an array of symptoms, with pain taking center stage as the most relentless companion for those grappling with this ailment. Yet, amid this discomfort, a glimmer of optimism beckons, as certain foods hold the potential to alleviate this affliction and potentially alter its course. Join us on this enlightening journey as we navigate the realm of science-backed nutrition, unveiling the most effective dietary allies to combat arthritis and the associated joint pain.
Cracking the Arthritis Code
Arthritis, an umbrella term encompassing a spectrum of inflammatory joint maladies, necessitates differentiation between infectious and non-infectious variants. Rheumatoid arthritis, the most prevalent form, affecting one to two percent of individuals, with its prevalence linked to age, serves as a prime illustration of non-communicable arthritis. In this autoimmune disorder, the immune system misguidedly targets the body's own tissues and joints, with the underlying trigger eluding our grasp.
The capricious nature of arthritis reveals itself through symptoms that ebb and flow. Early, subtle indicators encompass fatigue, weakness, and a diminished appetite. As the condition progresses, joint-related tribulations such as pain, stiffness, swelling, localized redness, and inflammation make their grand entrance. In the most severe cases, arthritis extends its reach beyond joints, potentially affecting vital internal organs.
Regrettably, a bona fide cure for arthritis remains elusive. However, those wrestling with this condition can exert some influence over its course through dietary adjustments. The crux of the matter lies in the consumption of anti-inflammatory foods and a warm embrace of healthy fats. Health books, guides, exercises, habits, Diets, and more.

10 Science-Backed Best Foods for Arthritis and Joint Pain
1. Ginger: Nature's Soothing Balm
Ginger, celebrated for its multifaceted healing properties, transcends its reputation as a remedy for common ailments like colds and nausea. It emerges as a potent ally for those tormented by severe arthritis. In a six-week study involving 261 individuals grappling with knee arthritis, an impressive 63 percent reported reduced discomfort after incorporating ginger extract into their daily regimen.
Within the unassuming ginger root resides a treasure trove of critical nutrients and trace elements, including potassium, calcium, magnesium, folic acid, vitamin C, and phosphate. Yet, the true hero here is gingerol, a remarkable compound endowed with pain-alleviating prowess. Ginger's transformative potential extends across various forms, vital solutions on Amazon for your healthy life, be it ginger powder, the comforting embrace of fresh ginger tea, or its culinary integration into meals. Each avenue effectively curtails the formation of inflammatory compounds, offering respite to those ensnared by arthritis's grip.
2. Fatty Fish: Omega-3 Rich Delights
Incorporating fatty fish such as salmon, mackerel, sardines, or trout into your dietary repertoire can be a game-changer for arthritis sufferers. These aquatic marvels boast a generous bounty of omega-3 fatty acids, renowned for their antioxidant and anti-inflammatory properties. Nutrition specialist Linda Marx elucidates that omega-3 fatty acids, polyunsaturated fats that the body cannot produce internally, must be sourced through dietary means. Fish oil, rapeseed oil, and walnut oil stand as prime sources of these vital fatty acids.
A multitude of studies unveils omega-3 fatty acids' ability to lessen the severity of pain and stiffness experienced during the morning for arthritis patients. Notably, individuals in these studies found themselves in less need of pain relievers compared to their counterparts. Furthermore, research shines a light on omega-3's potent anti-inflammatory effects on joints affected by rheumatoid arthritis. Fitness – Meditation – Diet – Weight Loss – Healthy Living – Yoga.

3. Turmeric: The Radiant Spice
Turmeric, renowned for its radiant hue, emerges as a true superfood, showcasing its potential to reduce arthritic pain by up to 50% according to studies. The remedy is as simple as incorporating half a teaspoon of turmeric powder into your daily routine. Turmeric's magic centers around curcumin, an active ingredient lauded for its anti-inflammatory and antioxidant prowess.
Curcumin's chemical composition equips it to neutralize free radicals, rendering them benign. Dietary supplements offer an alternative, but caution is essential, as some include black pepper extract (piperine) to enhance curcumin's bioavailability, a practice deemed risky by the Federal Institute for Risk Assessment (BfR). For safer supplementation, opt for Phytholistic pills, which offer a 40-fold increase in bioavailability, sans piperine.
4. Garlic: Nature's Pain Remedy
Garlic steps in as a pain-relieving agent for arthritis sufferers. Components within garlic, especially omega-3 fatty acids, manifest both anti-inflammatory and pain-relieving properties. Research unveils that garlic consumption not only fortifies the immune system but also diminishes the risk of developing arthritis.
Moreover, garlic packs a range of health benefits, with its cloves harboring phytoncides, natural antibiotics effective against harmful microorganisms sans adverse effects. Garlic's active component, allicin, confronts antibiotic-resistant bacteria and fungi with vigor. Beyond this, garlic safeguards heart and blood vessel health, mitigating blood pressure, regulating cholesterol and fat levels, and minimizing the risk of vascular obstructions like thrombosis. Health Supplements A-Z for Easing 50+ Complications.

5. The Mighty Spinach: A Hydration Champion
Spinach, boasting an impressive 91% water content and low-calorie attributes, emerges as a hydration champion among vegetables. Its meager 3.6 grams of carbs per 100 grams recommends it as a beacon for low-carb diets. Yet, spinach extends beyond hydration.
It showcases a wealth of vitamins and minerals, including vitamin C, vitamin K, iron, folic acid, calcium, and vitamin A. Recent studies involving mice suggest that spinach's robust antioxidant content may favorably impact arthritis symptoms, though research remains in its nascent stages. Despite this, spinach retains its status as a highly beneficial dietary choice, deserving a prime spot on your plate.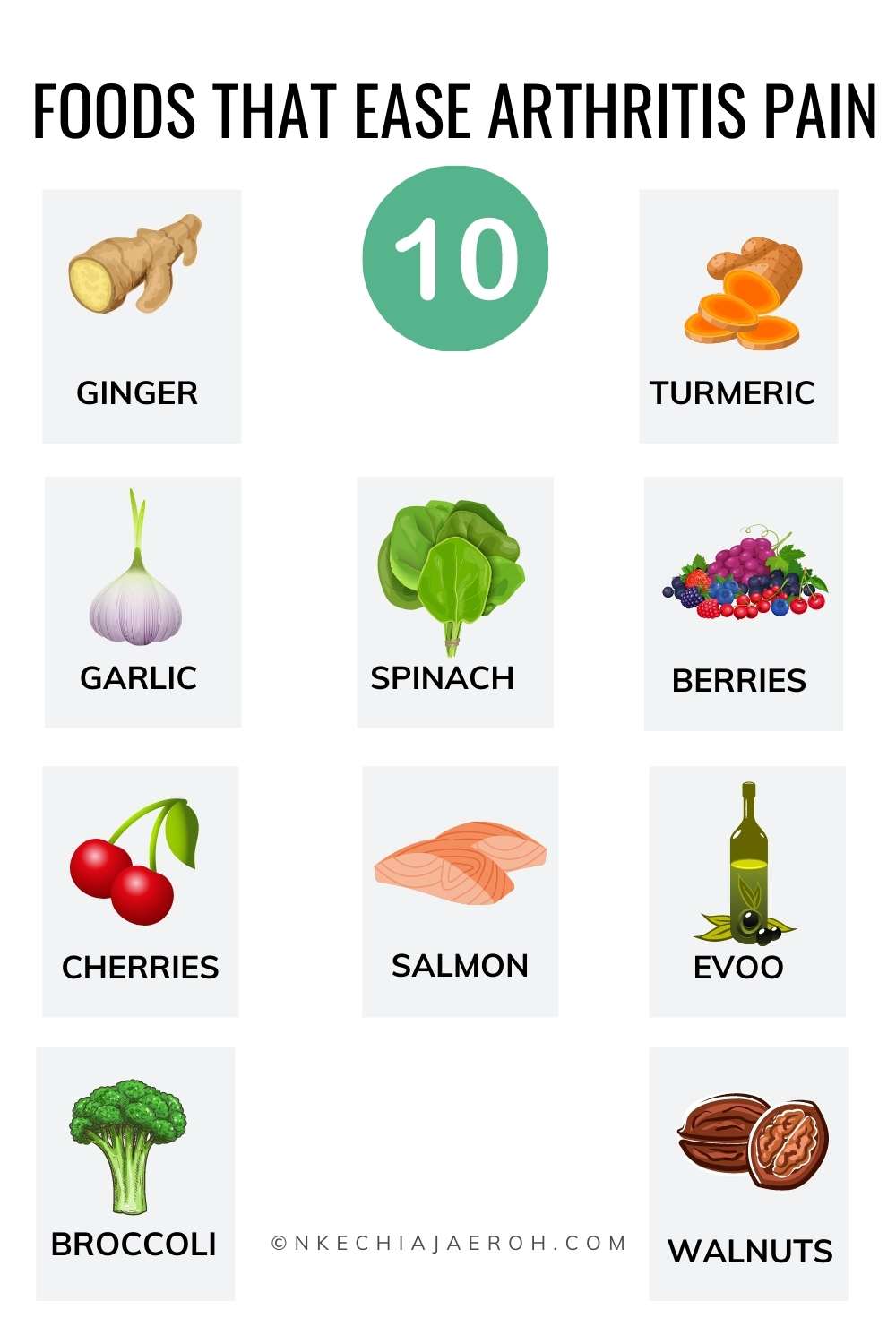 6. The Nutritional Dynamo: Walnuts
Walnuts, those delectable nuggets of nutrition, pack a powerful punch with their rich assortment of vitamins and minerals. Within 100 grams of walnut kernels, you'll find approximately 8.5 grams of omega-3 fatty acids, a true nutritional gem. Moreover, they offer a bounty of zinc, potassium, magnesium, phosphorus, iron, and calcium.
What sets walnuts apart is their anti-inflammatory prowess, making them an exceptional addition to the diets of arthritis sufferers.
Due to their high-fat content, it's wise to store walnuts in a cool, dark place, like the refrigerator. Women's health, pregnancy, supplements, breastfeeding.

7. Berry Bliss
Berries, with their delightful array of colors and flavors, emerge as antioxidant powerhouses. In particular, strawberries, blueberries, and raspberries are stars in the world of arthritis-friendly foods. Rich in antioxidants, these berries play a crucial role in protecting our cells and potentially fending off joint-related woes, including arthritis and osteoarthritis.
Berries aren't just about antioxidants; they also bring to the table a wealth of vitamin C, calcium, potassium, and iron, all of which contribute to a fortified immune system.
8. Broccoli: A Cruciferous Marvel
Broccoli, part of the illustrious cabbage family, is celebrated for its health-enhancing properties. When it comes to vitamin C content, broccoli outshines even cauliflower, making it a formidable defense against the common cold. Additionally, a typical serving provides around 115 milligrams of calcium, making it a valuable calcium source, especially for vegans and those with lactose intolerance.
But broccoli's excellence doesn't stop there; it's an anti-inflammatory superhero, aligning perfectly with the dietary needs of arthritis patients.
9. Grape Goodness
Grapes aren't just a delectable snack; they're brimming with anti-inflammatory potential and rich in antioxidants. A study involving 25 male participants found that grapes could reduce inflammation levels in the bloodstream.
Furthermore, grapes house essential vitamins, including C and E, alongside compounds like resveratrol and OPC (oligomeric procyanidins). These elements work in harmony to enhance blood circulation, ultimately safeguarding against heart and circulatory issues.
The Elixir of Olive Oil
Olive oil, a timeless culinary treasure, proves to be a boon for arthritis sufferers. Laden with antioxidants and anti-inflammatory properties, olive oil stands as a formidable ally in the battle against arthritic symptoms. Research even hints at its potential to reduce the risk of arthritis and overall body inflammation.
Beyond its arthritis-fighting prowess, olive oil garners accolades for its heart-friendly attributes. It aids in lowering "bad" LDL cholesterol while elevating "good" HDL cholesterol. Vital Health and wellness solutions on Amazon for your healthy life.

In Closing
Arthritis, characterized by joint inflammation, ushers in pain, stiffness, and swelling. Among its various forms, rheumatoid arthritis takes center stage, affecting one to two percent of individuals, its prevalence contingent on age.
Arthritis is unpredictable, with pain intensity fluctuating over time. Regrettably, it remains incurable. However, many sufferers have uncovered relief and symptom management through specific diets and dietary choices. Health Supplements. Healthy Aging. Vitality. Stress Relief. Restful Sleep.

10 Science Backed Best Foods for Arthritis and Joint Pain