(Last Updated On: July 26, 2021)
It is no secret that technology changes lives. Every day there are new ways tech innovation makes life easier and more enjoyable. Careers for people with disabilities make additional charm in life. For people with disabilities, technological advances bring greater career flexibility and ways to grow and expand work options. Training opportunities offer access to job growth and home-based business ownership. Just Global HR Services also widen the field for job seekers and employers alike.
Tech careers for people with disabilities
Whether it is through online training, hiring apps, or assistive technology, tech advances open doors to opportunities. Having greater access to educational options can have a significant impact on the ways people with disabilities can expand and grow a career. Remote learning is one tech advancement that has made career growth more accessible for all.
Remote Learning for Career Advancement
Remember when educational goals meant long hours sitting at a college or university and commuting back and forth if you lived off-campus? Remote learning and online training options have changed the landscape of higher education. Online learning offers greater convenience, saving time, money, and creating more accessibility.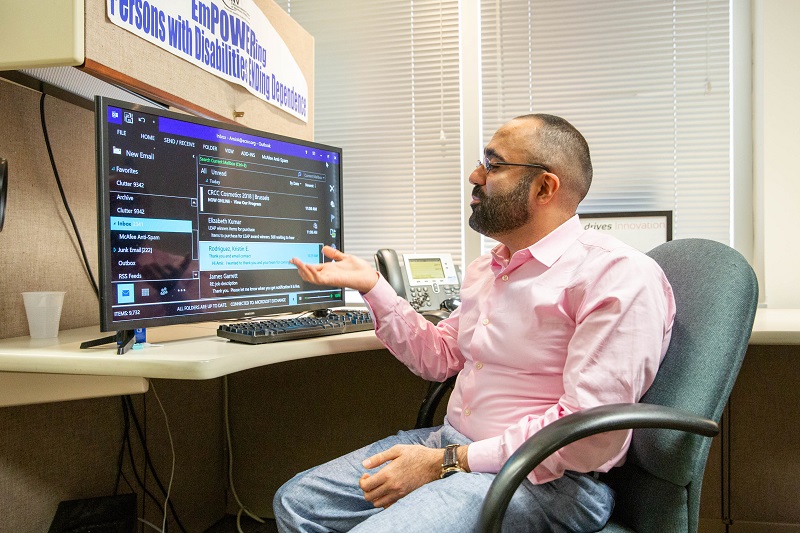 Whether it is a certification, a degree program, or a workshop that boosts skills in a particular area, remote learning is a great way for people with disabilities to advance their careers. For example, if you're interested in social work, online universities offer bachelor's programs that can help you earn your degree from home. And to make it easier on your life and schedule, many universities allow you to complete one course at a time.
Work-at-Home Business Opportunities
The option to work at home is one of the best parts of being self-employed. People with disabilities often benefit from the increased flexibility of work-at-home business opportunities. Owning a home-based business decreases overhead and enables tax write-offs for your office space.
There are hundreds of home-based business options for people with disabilities. Using skills in a freelance capacity can earn big bucks and offer flexibility. Starting a retail business or supply management company online or creating a startup for marketing are some fun options. These skills are valuable and can offer a lucrative business plan for years to come. Now more than ever, home-based businesses are thriving — this is a perfect time to consider starting a business, and technology is ripe for this type of innovation.
Assistive Technology and Support
Whether self-employed or working for a company, disabled people can benefit from a variety of software and apps that meet accessibility needs. Communication challenges, low vision, and other disability-related struggles can be mitigated with supportive technology. The technology of this sort can be life-changing for people with disabilities and can open doors to hundreds of career options. Some of the tech options are inexpensive or even free and offer priceless assistance that makes working easier and more enjoyable for people with disabilities.
The Chamber of Commerce for Persons with Disabilities is a great resource that connects business owners and offers opportunities for collaboration. Working with others and hearing the
success stories of other business owners with disabilities can be encouraging and uplifting.
There is a wealth of information for people with disabilities starting a business on Ignitespot Accounting. From grant options and marketing strategies to advice on growing a business, there are countless opportunities for enrichment, education, and support.
People with disabilities may find that the job search is frustrating and often results in dead-end leads. Remote work creates many more options and can make the search for work less stressful. Career coaching can be a useful way for startups to access the necessary advice to grow or start a business. A qualified, freelance career counselor can be found through online job platforms. You can check out reviews and weigh varying price options to find the right career counselor to meet your needs.
More Interesting Articles
Tags
careers for people with disabilities
jobs for people with disabilities
disability jobs
autism jobs
jobs for people with autism
part time jobs for disabled person
working with people with disabilities
jobs for disabled people at home
jobs for people with learning disabilities
jobs for disabled persons
handicapped jobs
learning disabilities jobs
government jobs for disabled individuals
jobs for aspergers
jobs for handicapped people
autism and employment
jobs for the physically disabled at home
careers working with individuals with disabilities
types of jobs working with special needs
jobs working with people with disabilities
jobs for people in wheelchairs
developmental disabilities jobs
autism employment agency
jobs for mentally disabled
jobs for people with dyslexia
special needs children jobs
Tech Can Boost Careers for People with Disabilities