(Last Updated On: August 1, 2023)
It is no secret that technology changes lives. Every day there are new ways tech innovation makes life easier and more enjoyable. Careers for people with disabilities make additional charm in life. For people with disabilities, technological advances bring greater career flexibility and ways to grow and expand work options. Training opportunities offer access to job growth and home-based business ownership. Just Global HR Services also widen the field for job seekers and employers alike.
Yet after the Covid-19 lockdowns, the increased utilization of digital communication tools has propelled the concept of working from home to new heights, transforming it into an acceptable and even sociable norm for many individuals with disabilities. However, despite the strides made in technology, there remains a vast frontier of inclusion yet to be conquered. Four professionals engage in a conversation about the advantages and drawbacks of this transformative shift.
The phrase "Let's set up a time to Zoom" has become a common and increasingly comfortable invitation among remote workers during the pandemic. Nevertheless, for the quarter of Americans living with disabilities, the impact of such work-from-home technology is far from straightforward. While it has empowered disabled workers by enabling fuller engagement, inequities persist in the design and functionality of much technology, resulting in gaps between able-bodied and disabled workers.
Tech careers for people with disabilities
Whether it is through online training, hiring apps, or assistive technology, tech advances open doors to opportunities. Having greater access to educational options can have a significant impact on the ways people with disabilities can expand and grow their careers. Remote learning is one tech advancement that has made career growth more accessible for all.
The advent of digital tools like Zoom, Cisco Webex, and Microsoft Teams has proven instrumental in transcending the barriers imposed by Covid-19 lockdowns, rendering work-from-home a viable and socially conducive option for people with disabilities. Wheelchair users are no longer burdened by transportation to and from work or the need to seek assistance within the confines of an office environment. For those grappling with mental illnesses, working from home affords greater control over their surroundings and potential stressors. Speech-to-text software facilitates improved communication for deaf and hard-of-hearing individuals, surpassing face-to-face interactions in traditional office settings. Even for those who are blind, artificial intelligence steps in to help detect faces.
Remote Learning for Career Advancement
Remember when educational goals meant long hours sitting at a college or university and commuting back and forth if you live off-campus? Remote learning and online training options have changed the landscape of higher education. Online learning offers greater convenience, saves time, and money, and creates more accessibility.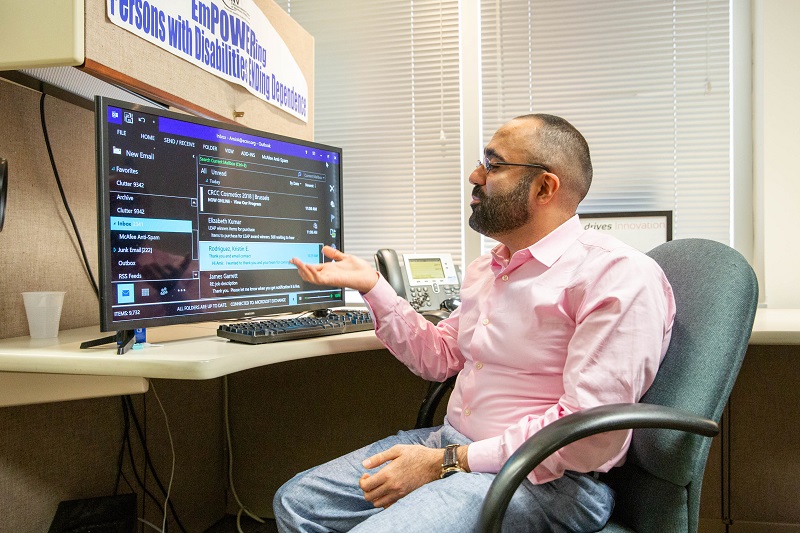 Whether it is a certification, a degree program, or a workshop that boosts skills in a particular area, remote learning is a great way for people with disabilities to advance their careers. For example, if you're interested in social work, online universities offer bachelor's programs that can help you earn your degree from home. And to make it easier on your life and schedule, many universities allow you to complete one course at a time.
Odochi Ibe, a 31-year-old digital storyteller diagnosed with attention deficit hyperactivity disorder (ADHD), anxiety, and depression, attests to the positive impact of the forced adoption of work-from-home practices and technologies that employers had resisted for years. She hails it as a boon, a much-needed relief from workplace ableism, which historically undervalues individuals with disabilities.
The pandemic-induced shift to remote work has notably alleviated Ibe's ADHD-related stress. Previously, she would frequently find herself returning home multiple times after leaving for work in the morning to retrieve forgotten items. These delays made punctuality a constant struggle, regardless of how early she rose. However, the new work-from-home dynamic has rectified this issue, allowing her to reclaim precious moments from her day.
While Ibe employs standard word processing applications like Pages and Google Docs, finding open-source software that optimizes her workflow has proven challenging. Her ideal app would seamlessly track her work hours and send timely reminders across browsers, phones, and even her Apple Watch. Currently, she relies on the Forest productivity app, which gamifies time management and mitigates distractions by discouraging social media scrolling, message checking, or video-watching.
In the ever-evolving landscape of work-from-home practices, the journey toward inclusivity continues. The power of technology to level the playing field for disabled individuals is undeniable, but there remains a pressing need for ongoing innovation and collaboration to bridge the gaps and ensure that every individual, regardless of ability, can have equal access and opportunity in the workplace.
Work-at-Home Business Opportunities
The option to work at home is one of the best parts of being self-employed. People with disabilities often benefit from the increased flexibility of work-at-home business opportunities. Owning a home-based business decreases overhead and enables tax write-offs for your office space.
There are hundreds of home-based business options for people with disabilities. Using skills in a freelance capacity can earn big bucks and offer flexibility. Starting a retail business or supply management company online or creating a startup for marketing are some fun options. These skills are valuable and can offer a lucrative business plan for years to come. Now more than ever, home-based businesses are thriving — this is a perfect time to consider starting a business, and technology is ripe for this type of innovation.
The advancement of work-from-home technology has ushered in a new era of inclusivity, opening doors for disabled employees to actively participate in workplace discussions and decisions without facing the physical constraints imposed by traditional office settings.
For Dana Carpenter, a former researcher for a sales team in hospitality management, the ability to work from home proved to be a transformative revelation. Diagnosed with spinal muscular atrophy (SMA), she had spent the last seven years working from her home in Austin, Texas, until she was unexpectedly laid off in February. Carpenter believes that more people with disabilities should be granted the opportunity to benefit from such accommodations, even beyond pandemic times.
Carpenter's journey began nearly two decades ago when the concept of working from home was a mythical creature in the professional landscape. In those early days, her experience in non-profit offices, dedicated to accessible and affordable housing, was riddled with challenges, particularly when navigating hazardous weather conditions. Fearful for her safety during major storms, she faced a dilemma each time she had to decide whether to venture out in her electric wheelchair or forego her wages for the day by staying home.
The office environment itself posed numerous obstacles for Carpenter. Simple tasks like having lunch required assistance, and she often skipped meals to avoid inconveniencing others. The lack of understanding from her manager compounded the difficulties she encountered daily.
Yet, in the confines of her home, Carpenter found solace in the realm of technology. Despite being unable to lift her arms, she efficiently utilized a trackball mouse for typing and voice-to-text for creative writing and composing lengthy emails. Her workspace was a testament to the power of technology, with an Amazon Alexa Dot at her command, effortlessly controlling the light and fan.
Work for freelancers
Similarly, Kam Redlawsk, a freelance product and graphic designer, writer, illustrator, consultant, and disability advocate, embraced the freedom of freelancing due to the demeaning and demoralizing experiences she faced during job interviews in the past. Living with GNE myopathy, which causes progressive muscle weakness, Redlawsk found her journey to secure employment fraught with challenges.
One such disheartening encounter took place during an interview for a San Francisco-based company specializing in high-end robotics for kids. Despite the promising phone conversations with her prospective boss, the in-person interview turned into an ordeal as she struggled to maneuver her manual wheelchair across thick carpeting. Seeking assistance proved futile, and Redlawsk believes her disability might have cost her the job.
Today, as a freelancer, Redlawsk's work requires minimal accessibility devices—her iPhone, iMac, and Cintiq Warcom drawing tablet are all she needs to excel in her field. A smart plug simplifies the process of turning her computer off, eliminating the need to reach behind the screen to push the power button. As her condition progresses, she envisions the possible use of an eye-tracking device in the future.
Robert Kingett, a 30-year-old blind writer living with cerebral palsy and retinopathy of prematurity in Chicago, Illinois, finds immense empowerment through technology. The internet has become a powerful medium, granting him and other minority groups, including Black and transgender Americans, a voice they rightfully deserve. With Microsoft and Apple-based software and the open-source NVDA screen reader, Kingett thrives in an inclusive design environment.
Communicating via email due to his speech disability, Kingett advocates for the significance of technology in fostering an inclusive society. He views the internet as a megaphone, amplifying the voices of often overlooked and underrepresented individuals. For effective communication, he commends Zoom for its robust screen-reader support.
The consensus among these professionals is clear: technology is the bridge to a more inclusive and accessible workplace. By embracing work-from-home practices and incorporating technology-driven solutions, employers can effectively level the playing field, providing disabled individuals with a platform to contribute their talents, ideas, and perspectives without facing physical barriers or discrimination. The internet's potential as a catalyst for empowering marginalized voices should not be underestimated, and it serves as a clarion call for companies to imbue inclusivity into the very fabric of their structural systems.
Assistive Technology and Support
Whether self-employed or working for a company, disabled people can benefit from a variety of software and apps that meet accessibility needs. Communication challenges, low vision, and other disability-related struggles can be mitigated with supportive technology. Technology of this sort can be life-changing for people with disabilities and can open doors to hundreds of career options. Some of the tech options are inexpensive or even free and offer priceless assistance that makes working easier and more enjoyable for people with disabilities.
The Chamber of Commerce for Persons with Disabilities is a great resource that connects business owners and offers opportunities for collaboration. Working with others and hearing the
success stories of other business owners with disabilities can be encouraging and uplifting.
There is a wealth of information for people with disabilities starting a business on Ignitespot Accounting. From grant options and marketing strategies to advice on growing a business, there are countless opportunities for enrichment, education, and support.
People with disabilities may find that the job search is frustrating and often results in dead-end leads. Remote work creates many more options and can make the search for work less stressful. Career coaching can be a useful way for startups to access the necessary advice to grow or start a business. A qualified, freelance career counselor can be found through online job platforms. You can check out reviews and weigh varying price options to find the right career counselor to meet your needs.
Challenges for careers for people with disabilities

Despite the remarkable advancements in technology, challenges persist for disabled individuals, primarily rooted in the lack of inclusive design, as highlighted by Robert Kingett. He elucidates that numerous programs remain inaccessible to screen readers, a frustrating reality that many disabled users face daily. Examples include TikTok, the short-video sharing app, and Discord, a gamer-focused chat app. The desktop version of TikTok poses difficulties due to an abundance of empty links and buttons, while Discord's tab key being locked in the text box renders it inaccessible to blind individuals relying solely on a keyboard.
Regrettably, many people without disabilities opt for less-accessible apps simply out of familiarity, disregarding the needs of those with disabilities. This issue deeply affects Kingett, who feels compelled to endure the frustration of dealing with inaccessible products due to others prioritizing their privileged desires over his essential needs.
Howard A. Rosenblum, CEO of the National Association of the Deaf, underscores the struggles faced by the deaf community in adapting to the new work-from-home landscape. As most employees grappled with the mechanics of video-conferencing platforms from home, deaf and hard-of-hearing employees expressed concerns about missing crucial communications during virtual meetings, requiring them to advocate for accessible solutions.
For Odochi Ibe, the transition to working from home has introduced its own challenges, affecting her mental health and productivity. While technology enables remote work, it also creates an environment with limited structure, which can be detrimental to her ADHD. Unstructured time tempts her to engage in non-productive activities, leaving her feeling unaccomplished as the day comes to a close.
Moreover, working from home coincides with a time of reckoning with racism in America, further burdening Ibe's emotional energy. Amid a global pandemic and civil rights uprising, the pressure to be productive feels overwhelming, and the notion of utilizing newfound time for productivity becomes incongruous.
As the COVID-19 pandemic shows no signs of abating in the United States, remote work has become a mainstay, with Zoom meetings becoming an integral part of daily interactions. Google's recent announcement that its employees won't return to global offices until July 2021 is a testament to this enduring trend.
The question now lies in the post-pandemic landscape: Will companies continue to embrace remote work, especially for those with disabilities who derive significant benefits from this flexibility and, in turn, contribute positively to their workplaces? The answer remains to be seen, and the future of work-from-home policies will undoubtedly impact the lives and inclusion of disabled individuals in the workforce.
More Interesting Articles
How Tech Can Boost Careers for People with Disabilities