(Last Updated On: September 13, 2023)
The first Hollywood movie theme park in Southeast Asia, Universal Studios Singapore, features an interesting selection of attractions, excursions, and entertainment for families and adventurers. There are just 59 stars on the Hollywood Walk of Fame in Universal Studios Singapore, out of a total of 2500 stars on the real Hollywood Walk of Fame. If you intend to visit Universal Studios Singapore on your birthday, simply go to the Guest Services lobby and ask for a special birthday present.
The New York Library façade is only in 3D in Universal Studios Singapore; it is only in 2D everywhere else. The Battlestar Galactica is the world's highest dueling roller coaster, standing at 42.5 meters. In fact, 18 of the 24 movie-themed rides were designed just for Singapore Park. A massive theme park on Singapore's Sentosa Island is the best destination for pleasure and relaxation. It is Southeast Asia's only park with 24 thrilling rides, as well as a variety of shows and attractions spread throughout seven theme zones.
Track All of Your Travel Requirements from One Place
aRes Travel: Discounted Vacation packages & Travel Planning
This 20-hectare theme park is the first of its type in Southeast Asia from Universal Studios. It is home to the Battlestar Galactica, the world's highest dueling rollercoaster, as well as the Sesame Street Spaghetti Space Chase and Puss In Boots' Giant Journey attractions. At Universal Studios Singapore, there are a total of 16 attractions.  What is the ideal amount of time to spend at Universal Studios Singapore? Approximately 4 hours. If you go between 10 a.m. and 5 p.m., you should be done and off Sentosa, ready to shop in Vivocity, or return to your hotel to freshen up before going out to dinner.
Universal Studios Singapore is the only Universal Studios theme park in Southeast Asia. It is 20 hectares that combine with 25 football fields. Stop yourself so that you are not too tired.
Universal Studios Singapore Facts and To-Do



Here are several unique areas, each themed after the movie icons. In the Hollywood Zone, you will find the famous Hollywood Walk of Fame. As you make your way to New York, the landscape has transformed into a captivating city skyline with a subway mock-up. Here, you can go to a movie set and enjoy the destructive power of a hurricane with special effects produced by Steven Spielberg.
1. Breathing Rides
Featured in Sci-Fi City's famous Transformers The Ride: The Ultimate 3D War Journey where you battle evil forces in a heart-rending 3D battle. Move to ancient Egypt and face mummies and scarab beetles on an indoor roller coaster in total darkness It is better to ignite your fears. In Madagascar, a riverboat is ready to soak in the voyage.
2. Thrills and spills
The performance at Universal Studios Singapore is equally spectacular. Young people will love the Far Shrek 4-D adventure, a cinematic experience that allows viewers to physically feel the action of the movie. Located in the Lost World Zone, the blockbuster film Resort features Waterworld's acting – death-defying stunts and jaw-dropping explosions. After an exciting day, replenish your energy in the attractions and step into many themed restaurants throughout the park.
Whether you go on Fridays, Saturdays, or selected public holidays, you'll be able to experience the park after dark with Universal After Hours, a thrilling lineup of night-time activities from 10 am to 10 pm. Rhythm pulls on the beats of the truck, indulges in street food decor, and is admired by the stars of the Hollywood Dreams Light Up Parade.
Travel essentials, accessories, kit & items on Amazon
Free and Paid TRAVEL RESOURCES You May Explore
3. Types of tickets and where to find them
One-day tickets
Entrance ticket to the park. The general price is 76, but you can find promotions online. Universal Express and Universal Express Unlimited. Allow you to use a separate (short) row for rides. These are not admission tickets.
Express passes start at $ 30 and $ 50. They are so valuable dynamically before this, especially because the peak season means making them cheaper. You can get them inside the park.
4. When to visit

Any day of the year will be a good time. But if you want to avoid the crowds, note that the park is busiest on weekends and during school holidays in March, June, September, and December.
The trade going into the day of the week is that you can miss the Hollywood Dreams Light Up Parade and the sights of the fireworks. (See visitor information calendar for when two shows are running and when there is extended time for a park)
If you have received a ticket, arrive early an hour before the park opens. If you've already purchased a ticket online, as suggested by us, grab the obligatory photos with Universal Globe (less likely to be photobombed). Women travel must-haves

If you are lucky and live here with your family, you may even be chosen as the 'open family' of the day. You will be part of the day's opening, as well as some additional benefits to choose from.
5. How do I get to Universal Studios Singapore?
Universal Studios is part of Singapore Resort World Sentosa. The nearest MRT is the Harborfront Station. To get to the resort use the Sentosa Express, or RWS8 bus, or take a walk on the Sentosa Boardwalk. If you bring a taxi, stop at the casino. Pick up the escalators and you'll be able to see the Universal Globe.
6. What to wear
Singapore's weather is warm and humid. It is best to wear light, tight clothing. Wear comfortable shoes because you will be walking around a lot. The park is 20 hectares which is a combined size of 25 football fields. During the rainy season from September to February, you can occasionally bring ponchos (or get in the park) for rain or showers.
7. Available facilities
Drinking water in the water fountains around the park

There are park attendants who will help you take photos

Strollers for rent (at the entrance to The Lost World and Jurassic Outfitters)

Wheelchairs and motorized vehicles (only at the entrance)

WiFi access
8. Can I re-enter the park?
Yes, you can leave Universal Studios Singapore in the middle of your trip. To get out simply get the re-entry hand stamp and put in your admission ticket. With these, you can return to the park the same day.
Compensair: A service that helps customers receive compensation for flight delays, cancellations, or denied boarding
Traveloka: Southeast Asia's Leading Travel Platform. Best prices for hotels, flights, buses, trains, & attractions
9. Tips for a better experience

Come early.

Examine the cue time board and plan your trip around the short line

Get an Express Pass to use the fast lane

You will find row time boards around Universal Studios Singapore.

Once in the park, choose a studio guide and orient yourself.

Grab the day's program sheet and note when the events start and when they meet.




Get the Universal Studios Singapore Studio Guide and Program Sheet upon entry.
10. Must go for thrill-seekers
Ride transfer

Battle Star Galactica: Human vs. Ceylon [loose items must be kept in the locker]

Sue's Revenge [loose items must be kept in the locker]

Jurassic Park Rapids Adventure

Amber Rock Climb
11. Best ride for kids
King Julien's Beach Party-far-away round

Puss in Boots is a huge journey far and wide

Enchanted Airways Far Away

Give Soarin 'in The Lone World'

Sesame Street Spaghetti Space Chase in New York
12. A must-see for kids
Sesame Street 'When I Grow Up' at the Pantages Theater

Madagascar Boogie in Madagascar

Dance for the Magic Bean far and wide

Waterworld in The Lost World

Catch 'When I Grow Up' starring Sesame Street in the Pantages Theater atch

Catch 'When I Grow Up' playing Sesame Street in the Pantage Theater.
13. Popular meet and greet characters
You can find meet-and-greet times on the daily program schedule.

USS Minion Meet and Greetings

Look for meetings and great timing boards. The timing of your trip may vary.
14. Hollywood Minions

Sesame Street

Sesame Street Gang in New York.

Meet Transformers: Optimus Prime and Bumblebee

The queue for photos with Madagascar characters after their Street Show.

Pinocchio can see you far away.
15. Best photo spot
Sting Olly (next to Katie's Grill) is inspired by the 1973 movie The Sting.

Cross the lake in Madagascar and get a shot of the entire Battlestar Galactica foam.

Take a picture of the castles and Madagascar, standing opposite the lake in ancient Egypt.
16. Special show
Hollywood Dreams Light Up Parade

A squabble with your favorite characters from Madagascar, Mummy's Revenge, Jurassic Park Shrek, and more. The characters and their floats will sail from The Lost World to New York in a fun-filled music parade.

Only on selected Saturdays, Sundays, and holidays. Please check park operating hours for more information. Kyte: Rental Cars On Demand. Delivered To Your Door.

17. Fireworks
Catch a fireworks show set to a brilliant musical score that will illuminate your night.

Select Saturday. Check out the show schedule for more information.
18. What to eat at Universal Studios Singapore
If you are looking for simple theme park food, we found them: from Goldilocks to Fascinating Fried Chicken and Fry; The burgers are paired with a dense creamy milkshake and hotdog from Mel's drive-in for an instant bite of fossil fuels. Yum.
For anything more unique, here are some dining outlets that you should try.

Full-service restaurant: Katie's Grill in New York

Servers at Irish-American restaurants bring your food to the table so sit back and relax

Singapore Favorites: Discovery Food Court in The Lost World

Discover local cuisine with laksa, hennais chicken rice, and more.
19. Foods
The giant pizza is enough to feed a family of six. If you are with a large group, come on over.

Roasted turkey leg from Marilyn's great leg meal cart

Knowledge of an 8-inch juicy turkey leg that can feed two people. Tastes more like chicken but chewing more.

Mala turkey leg US

Get Marilyn's spicy garland turkey leg if you like foods that crush your lips.

Churros dog from Churros cart

When a burglar marries a hot dog bun? The Stolen Dog This high-sugar level snack will give you a squeeze of sugar juice to conquer all the rides.

Halal cuisine at Universal Studios Singapore

Drive to Meals, serve fryers, Goldilocks, Oasis Spice Cafe, and Marty's Casa del Wild, halal food.

If the pork dishes are not to your liking, there are many restaurants in RWS. Depending on what tickles your fancy welfare, we recommend our celebrity restaurant or Malaysian Food Street.

Get a hand stamp when you arrive and book a ticket to return to Universal Studios Singapore on the same day. Each zone has its own store with themed merchandise.
More to see
20. Hollywood
Universal Studios Store: Flagship Real Outlet where you can get a little something from different regions. Perfect for buying everything in one go.

Minion Mart: Hate my product with a heavy focus on minions

Silver Screen: Movie- and Hollywood-related goodies are found here.
21. New York
Big Bird Emporium: Merchandise Store on Sesame Street. A favorite among kids.
22. Sci-Fi City
Transformers Supply Vault: Available here if you are a fan of Autobots, Toys, and Transformers models.
23. The Lost World
Dino-Store: A favorite base of paleontologists. Features Jurassic World Merchandise.
24. Far far away
Fairy Godmother's Potion Shop: A Place in the World of Pleasure, Shrek.

Universal Studios Store Universal Studios Singapore

Universal Studios store just after entering the park.

Minion Mart frustrates me for everything.
25. Big Bird Emporium
The Big Bird Emporium can be found in New York right next to the Sesame Street Spaghetti Space Chase.
Aviasales: A trusted service for buying flight tickets from reliable agencies at the lowest possible rates
Hotellook: A platform for comparing hotel prices around the world (250,000 properties in 205 countries)
26. Transformers Supply Vault
Child-friendly services

Baby Services at Guest Services
The Baby Center has two nursing cubicles. It also offers microwaves, diapers, and bed liners for coin dispensers and even a place for older kids to play.
Find other resort nursing rooms.

You have to be this tall to ride

Universal Studios Singapore Minimum height for attractions

Find out if your baby is tall enough to handle the attractions.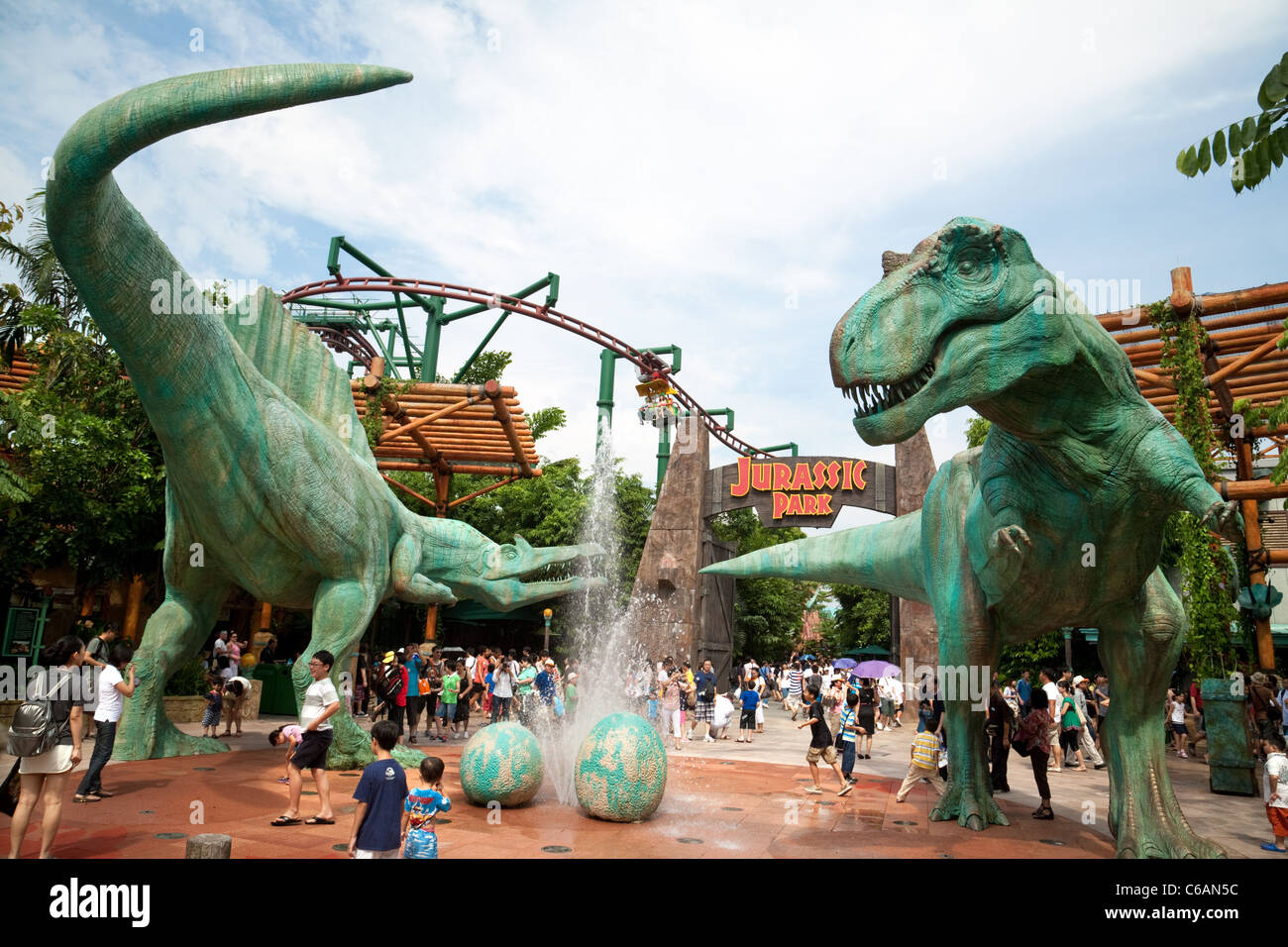 27. Baby swap
Parents do not have to be frustrated with young children – just be sure to use the baby's swap option on the chosen ride.
Baby swaps allow parents to launch a ride that does not allow their kids to have kids; When one looks at the baby, the other begins the journey, swapping it without joining the queue again.

Stroller rental and parking

USS Stroller Rental

Walkers and wheelchairs are available for rent.
Walkers (single and double), wheelchairs, and motorized carts are available for rent.
Most restaurants and rides have special areas for stroller parks outside.

USS Stroller Wheelchair

Park your stroller out of various attractions.
28. Locker at Universal Studios Singapore
There are paid lockers and free lockers in the park. Here is a complete list of free and chargeable lockers at Universal Studios Singapore.

Battlestar Galactica: You need to keep all your belongings in a locker to avenge Human vs. Ceylon and ancient Egyptian mummies in Sci-Fi City.

For Jurassic Park Rapids Adventure in the Lost World, we suggest storing items that should not be exposed to water even in lockers.
29. Universal Studios Singapore's Jurassic Park
Make sure you have a second set of clothes before going on this ride. Because this ride takes place on the water, you may get fully soaked depending on your location on the ship. You pass through a dinosaur-grazing ranch with some stunning waterfall drops and splashy river rapids.
When you first go into the structure, you'll hear fake screams and cries from other dinosaur park guards, which adds to the suspense and thrill. There will be no difficulties if you do not read the post and go on this ride without an additional set of clothes. Drying pods are available for $5 and may be used to dry oneself.
Qeeq: Fast-growing car rental platform, listing over 7 million rental cars in ~200 countries
i'way: Private car service to and from 600 airports worldwide
30. Universal Studios Singapore's Canopy Flyer
The Canopy Flyer is a tiny open chair vehicle hung from a track that is both thrilling and enjoyable if you sit back more. You'll get a bird's eye perspective of Jurassic Park on this ride. Keep in mind that this trip might be rather frightening, especially if you are terrified of heights.
31. Universal Studios Singapore's Waterworld
You may see death-defying stunts of the actors who are so devoted to their characters in this film based on the smash movie starring Kevin Kostner. Before the show begins, you are treated to a funny performance, and then the artists do incredible stunts throughout the event.
Jet-ski chases, explosions, and repeated three-story falls are breathtaking and will leave you speechless. This is a must-see attraction at Singapore's Universal Studios.
32. The Mummy's Revenge Universal Studios Singapore is a theme park in Singapore
The Revenge of the Mummy is another exhilarating ride that you must see at Universal Studios Singapore. The adventure begins with you in a vehicle in pursuit of 'The Book of Living.' You must face Imhotep, the primary villain of the Mummy movie, as you go through various scenarios inside an Egyptian tomb.
With various twists and turns as well as accelerations, we're sure you'll like the roller coaster ride. Revenge of the Mummy is a roller coaster ride, haunted home, and multimedia adventure that is not for the faint of heart. The ride requires you to unload your pockets in a free locker for the first 45 minutes, similar to Battlestar Galactica.
33. Singapore's Transformers Ride
This is a 3D experience where you sit on a cart and wear glasses. You're whisked around the room in time to the mind-boggling activity on the monitors. The visual effects are excellent. If you've ever wished to be one of the Transformers from the movie, this is probably the closest you'll come, and you'll undoubtedly like this experience.
You find yourself surrounded by Decepticons and Autobots as you are pursued by several giant fighting machines. The line for this ride, which is the most popular of all the rides, can take anywhere from 10 minutes to an hour. As a result, patience is required, and the trip is well worth the wait.
34. Singapore's Battlestar Galactica Ride
If you're looking for a rush of excitement and heart-pounding action, this ride is for you. It is one of the park's primary roller coaster rides and one of the top attractions at Universal Studios Singapore.
A dueling roller coaster ride twists around each other in this rollercoaster. One tune is titled Human, while the other is titled Cylon. You must empty your wallet in a nearby locker, which is free for the first 45 minutes, before going on the trip.
Tiqets: Directly bookable and instantly available mobile tickets for attractions around the world
AirHelp: Helps passengers receive ​up​ to €600 in compensation for delayed or canceled flights
You are not allowed to carry anything, and a guard is stationed with metal detectors to detect wallets and phones. Human and Cylon, both roller coasters, propel you into high speeds and tumultuous curves. If you sit in the first row, you will have the finest experience. Humans have a smoother surface than Cylons.
35. Convenience for Muslim guests
Universal Studios Singapore's Muslim prayer house is right next to Battlestar Galactica. You can find halal food at Mails Drive Inn, Friars, Goldilocks, Oasis Spice Cafe, and Marty's Casa del Wild. Here is a complete list of halal outlets at the resort.
36. Is there a Harry Potter exhibit at Universal Studios Singapore?
Note that there is no Harry Potter World at Universal Singapore; instead, go to Universal Studios Japan in Osaka, Universal Studios in Orlando, or Universal Studios Hollywood in the United States.
37. What is the total number of rides at Universal Studios?
Universal Studios Florida presently has 13 rides and one new coaster in construction. Inside Gringotts Bank in The Wizarding World of Harry Potter – Diagon Alley, learn about Harry Potter and the Escape From Gringotts ride.
Take away
Avoid Peak Days: The Studios consider Blackout Days to be Christmas, New Year, Chinese New Year, or any other public holiday. Avoid these days if you can, and the lines will be significantly shorter. As a result, having more time on your hands increases the number of rides you can take.
Take a look at the ride instructions: There are height limits on certain rides at Universal Studios. The majority of the rides demand that youngsters be at least 122 cm tall or be accompanied by an adult.
Qatar Airways: Book ticket and fly with confidence all over the world
Find Destinations, Hotel, Flight, Accommodation, Pickup
Bring a change of clothing because certain rides, such as Jurassic Park Rapids and Waterworld, may fully submerge you. It's usually best to have an additional pair on hand in case you get wet. However, if you forget to bring anything, there are dry pods available for $5 that you can use to dry up.
Time spent waiting: Some journeys need as little as 5 minutes of your time, while others might take up to an hour. As soon as possible, ride famous rides like Transformers, Revenge of the Mummy, or Battle Star Galactica. Queues can be avoided in this manner.
Other Recommended Reading
37 Universal Studios Singapore Facts: What to See & Do