(Last Updated On: April 19, 2022)
What are the best six ways to attract the attention of the listener? Gaining the intended audience's attention is one of the most challenging tasks for a presenter. As a result, grabbing that attention requires a lot of effort because it is essential for a successful presentation. Audiences may appear unapproachable at first, but your presentation must be structured in such a way that they must listen to you. In this article, I will discuss six ways to attract the attention of the listener.

Consumers and potential customers have increased access to information and tools to communicate their experiences, alternatives, and impressions about your brand or product as technology like smartphones becomes more widely used.
Customers don't want to be marketed to by a faceless organization; they want to be a part of a process and part of something greater, therefore traditional marketing is becoming less successful.
So, how can you expand your company and increase sales without alienating your customers? How can you turn to pay consumers into brand advocates and ambassadors? Building an engaged audience of actual fans is one part of the answer.
An audience is a group or community of people who are more interested in your brand's vision and purpose. Simply, they are your most ardent supporters and brand ambassadors.
Making sure you're targeting the correct sorts of people, delivering them what they want, and giving them the opportunity they want to become active and a part of your organization are all important steps in cultivating a loyal and caring audience.
Why is engaging the audience important
Audience analysis comprises identifying the audience and tailoring a speech to their expectations, level of knowledge, perspectives, and beliefs. It is required to understand why connecting with the audience is so crucial. Because a speaker's efficacy will be boosted if the presentation is well-crafted and presented, having an audience-centered approach is crucial.
Engaging an audience effectively promotes participation, enhances learning, and boosts satisfaction. Social media is used by engaged audiences to share their experiences. Smart presenters understand why is it important to connect with your audience in a speech. They represent brand ambassadors, promoting your business and creating recommendations and interest in events in the future.
The audience's involvement and participation aid in changing attitudes or reinforcing views. Rallies and protests not only offer individuals a sense of belonging, but their involvement also strengthens their convictions.
While it's desirable to grow your audience over time, it's also crucial to remember that size isn't everything. This is when the importance of involvement is reintroduced.
When it comes down to it, and intentionally engaged audience is the consequence of discovering the proper sorts of people who are truly interested in and want to be a part of your business.
There are several instances out there of Kickstarter campaigns, people, non-profit or open-source enterprises, and even basic concepts that attract enthusiastic, highly involved fans.
Making a Strategy for Growing Your Audience
Building an engaged audience, and allowing others to discover it and participate, starts with a solid strategy and a clear grasp of who your target audience is, where they hang out online, what goals you want to achieve, and how to get there.
If you already have a brand, you may already know some of these answers, but we'll be going over these important foundation elements, so you might want to refresh your strategies.
What is the demographic of your target market?
A target market is a group of people who are interested in your product and have certain qualities.
A niche market is a subset of a larger market, such as ladies aged 18-25 who live in New York and are interested in vegan fashion.
You should start by building a user persona of your ideal, perfect community member to successfully build a really engaged audience (which might be made up of multiple specialty audiences using different social networks). Then we'll concentrate on engaging with people that fit that description.
A user persona is usually developed in three stages:
Stage 1: Basic Demographics
This step is intended to reveal who is purchasing. As a result, attempt to identify some crucial facts, such as:
Age

Location

Gender

Income

Education

Occupation

Ethnicity

Marital Status

Number of Children
Stage 2: Psychographics
This step is intended to inform you as to why they were purchased. As a result, you should endeavor to understand more about essential details such as:
What are their favorites and passions?

What are their ambitions and dreams?

Are they conservatives or liberals on the political spectrum?

What personality traits do they have?

What drives them to share their knowledge with others?

What is their self-perception?

What are their daily concerns and objectives?

How are they attempting to live a life that is meaningful?

What are the behaviors they're attempting to alter?

What would make this individual trustworthy?

What are the most important pages for them to see?

What are the most likely call-to-actions for them to complete?

What psychological stumbling blocks might such pages unwittingly create?

What Google keywords would they use?

Why would they want to share our material with others?
Stage 3: Create a scenario
In a made-up scenario, combine the knowledge obtained in the preceding two rounds. Make it as authentic and descriptive as possible.
Six ways to attract the attention of the listener
Let's find below six ways to attract the attention of the listener:
1. Begin with a fantastic narrative
Storytelling is an old and effective method of passing on information and experiences to others. We're taught to tune in to this medium from the time we're in nursery school, and we're enthralled by stories in the shape of gossip, plays, books, and movies for the rest of our lives.
Begin with a quick 60- to the 90-second narrative that launches your speech and captivates your audience, and make sure the tale conveys the primary point of your message.
2. The most effective visual help
Video allows you to provide your audience with the visual impressions they want while also provoking an emotional reaction. "Unlike text and bullet points on a slide, you can use people, photographs, and sound to draw in the audience, add drama, and quickly explain the substance of your message," Price adds.
For modern audiences, video is the pinnacle of entertainment power, so wherever you can, employ captivating and intelligent video to express your message.
3. Keep it short and sweet
Here's a great way to ensure you don't ramble on for too long: Set the timer on your Powerpoint presentations to move on after 30-60 seconds.

Raye Varney advises, "Practise with that time so you're acclimated to going forward through your stuff successfully."

Many speakers indulge in "info-dumping," according to Darlene Price, president of Well Said, which can cause a presentation to continue longer than necessary. Keep in mind that you want to inspire and connect with your audience, not just recite data and figures off cluttered slides, one of the six ways to attract the attention of the listener.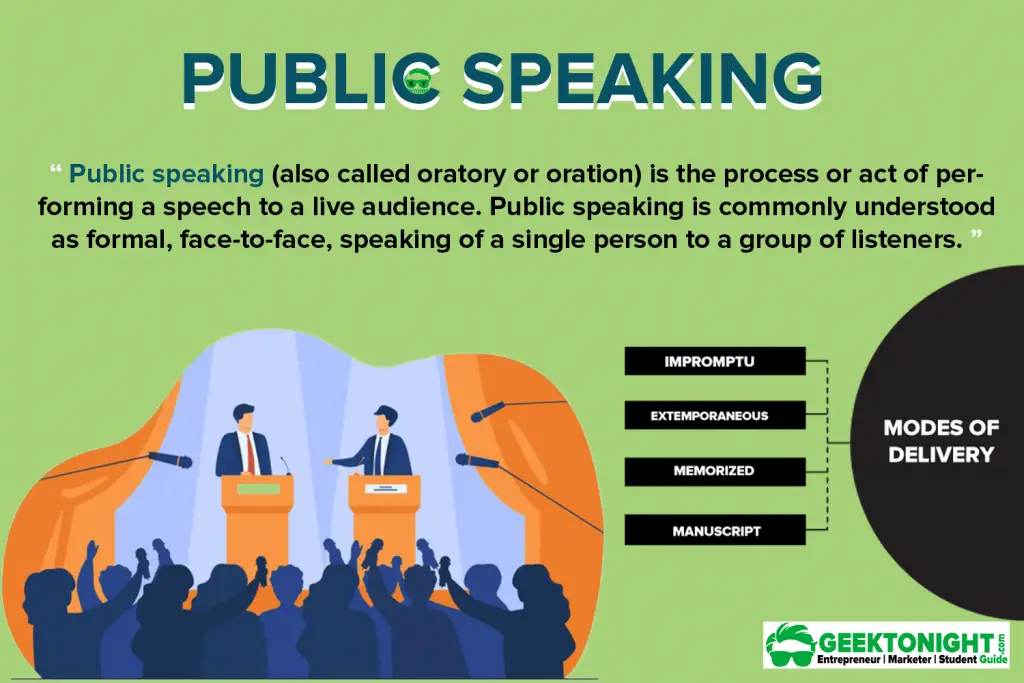 4. Perform in front of a live audience to hone your skills
According to Andrew Hennigan, the only way to perfect the skill of public speaking is to practice in front of actual people on a regular basis.

If you don't have an opportunity to deliver presentations at work, Hennigan recommends running for a political office or a leadership position in a professional organization that requires public speaking.

TED curator Chris Anderson, for example, claims that one of the most common mistakes he hears presenters make is not practicing enough (or at all). The difference between "owning" a talk and having it rule you, according to Anderson, is enough rehearsing.
5. Entertain your audience
Carmine Gallo, a communication coach, believes that making the audience laugh is the key to being an excellent public speaker.

However, this does not imply that you must deliver a joke.

Cristin Owens, for example, writes: "DO NOT deliver jokes if you are not comfortable doing so. It's not a skill that everyone possesses, and it has the potential to utterly derail you, particularly if you're already apprehensive. Instead, be friendly, comfortable, and upbeat. That will also get people's attention."

According to Gallo, recognizing a humorous scenario is as simple as: "Great storytellers put aside their need to be smart and just tell others about an experience that makes them laugh. If they laughed at anything, there's a strong probability their audience would as well."
6. Remember that this isn't about you
You're probably making a speech to assist your audience grasp a topic about which you're enthusiastic and informed. Throughout the presentation, keep this rationale in mind.

It's important to remember that this isn't about you. It all comes down to the audience. It will help you control your fear and divert your energy and attention towards the audience if you shift the emphasis away from yourself.

Meanwhile, author and speaker Scott Berkun suggests considering why your audience is there, as well as the five questions they'll want you to address throughout your presentation.

All of it boils down to one question you might ask yourself before giving your presentation: Will this discussion assist others or just you?
Take away
Any occasion to give a presentation, whether it's for a small group within your company or for a larger, more public audience, is an opportunity to provide valuable information and establish your worth as a speaker on the basis of the six ways to attract the attention of the listener.
Make the most of these fantastic opportunities by grabbing your audience's attention right away and retaining it for the duration of your presentation. Also, please let us know what you think. Did any of these suggestions work for you?
More Interesting Articles
tags
Why is engaging the audience important
the importance of the audience during a presentation
why is it important to connect with your audience in writing
why is it important to connect with your audience in a speech
what is audience engagement in media
strategies that capture and retain the interest of an audience
audience engagement examples
how to keep audience attention during a presentation
what is the best way to keep an audience engaged when giving a speech?
Six Amazing Ways to Attract the Attention of the Listener