(Last Updated On: November 2, 2023)
A hotel can be with or without a shuttle. hotel transfers often play an understated yet pivotal role. They can be the difference between a weary and disoriented arrival and a smooth, stress-free transition to your chosen accommodation. By arranging your transfer in advance, understanding the nuances of the options available, and selecting a service that suits your individual needs, you can ensure that the journey to your hotel is as memorable and enjoyable as your destination itself. So, when planning your next adventure, remember that the journey is not just about getting to your city; it's about starting your adventure on the right foot with a well-chosen hotel transfer.
What are Hotel Transfers?
Hotel transfers, often referred to as airport transfers, represent the seamless journey from your point of arrival, typically an airport, to your designated hotel. This pivotal service is a common feature in tourist brochures and available at airport kiosks, serving as a pivotal component of a traveler's experience.
When embarking on a hotel transfer, one should not envision themselves taking the wheel of a rental car. Instead, it involves entrusting the task of transportation to a professional driver. Beyond the conveyance of passengers, these transfers encompass the handling of luggage and personal belongings, a responsibility that falls squarely on the shoulders of the transportation company. This meticulous attention to detail ensures that your baggage is safely loaded and unloaded, sparing travelers the usual hassle and burden.
Diverse Transfer Options
A plethora of transfer options is at the disposal of travelers, catering to a wide range of preferences and requirements. One of the most prevalent modes of hotel transfers is the shuttle service, which can be either privately operated or offered through the hotel where you plan to stay. These shuttles adhere to pre-established schedules, guaranteeing that passengers reach their destination promptly. However, exceptions can be made if a shuttle is exclusively reserved for your group, a situation that frequently arises when coordinating transfers for passengers on cruise ships. Shuttles themselves come in various forms, from spacious buses to more compact vans and even rental cars, ensuring that the needs of diverse groups are met.
Additionally, taxi services are occasionally employed for hotel transfers, offering a more personalized and direct mode of transportation to the desired lodging.
Consideration of Transfer Costs
The financial aspect of hotel transfers plays a crucial role in the decision-making process for many travelers. Transfer costs can be handled in different ways, depending on the specific arrangements made. In certain cases, these costs are seamlessly integrated into the overall expenses of a hotel or resort package. Such inclusive transfers are often accompanied by a comprehensive set of information, clearly stating pickup and drop-off times and locations.
However, the landscape of transfer costs can vary, with some airports providing complimentary or reduced-rate transfer services to major hotels or resorts located nearby. In contrast, other locations may impose fees based on the distance covered during the transfer. The nature of these costs also hinges on the chosen mode of transportation. For instance, standard taxi fares are typically applicable if the hotel does not directly arrange for the taxi services, further adding to the complexity of navigating the nuances of hotel transfers. The financial aspect is one that travelers must consider when planning their journey and selecting the most suitable transfer option for their specific needs.
Luxury transfer
Not all transfers are required to ride the crowded shuttle or wait in the taxi line, for example, the Expedia hotel transfers. Some hotels and resorts can offer luxury options, such as limousine service to and from the hotel.
Hotels in high-class resorts or outbound destinations may rely on less conventional means of transport, such as helicopters, boats, or cable cars. There are even options for adventure travelers like paragliding to your destination hotel.
The Importance of Hotel Transfers
When embarking on a journey to a new destination, the excitement of reaching your city of choice is often coupled with the anticipation of finally settling into your hotel. However, this transition is not always as seamless as we would hope, particularly if your chosen accommodation is not situated near the airport. In such cases, the significance of hotels that offer airport shuttle and transfer services cannot be overstated. This article delves into the realm of hotel transfers, shedding light on the invaluable tips and insights that can help streamline your travel experience.
Advance Arrangements for a Stress-Free Start
One of the cardinal rules for ensuring a smooth and hassle-free travel experience is to plan your hotel transfer well in advance. The last thing you want after a tiring flight is to be caught in a logistical maze, trying to figure out how to reach your hotel. By taking the time to arrange your transfer before you even set foot in the airport, you can significantly mitigate the stress associated with travel. It's a wise strategy that allows you to transition seamlessly from your flight to your hotel, sparing you from the inconvenience of navigating unfamiliar transportation systems in a new city.
Not All Transfers Are Created Equal
While it's certainly prudent to arrange your hotel transfer in advance, it's equally crucial to understand that not all transfer options are created equal. Diverse choices exist, and it's essential to acquaint yourself with the particulars of each before making your reservation. Whether you're booking through a service like Expedia's hotel transfers or exploring other options, the devil is in the details.
Factors such as the mode of transportation, transfer duration, cost, and level of convenience can vary significantly from one provider to another. Therefore, prior research and informed decision-making are paramount to ensure you receive the transfer service that best aligns with your needs and preferences. Kyte: Rental Cars On Demand. Delivered To Your Door.

Choosing the Right Service for You
As you embark on your quest to find the ideal hotel transfer service, consider your requirements and preferences. Do you prioritize speed and efficiency, making a taxi or private car a suitable choice? Or are you seeking a more budget-friendly option like a shared shuttle or public transport?
Additionally, some travelers may have unique needs, such as accessibility requirements or the desire for a luxurious start to their journey. Understanding your priorities and preferences will help you select the transfer service that aligns with your vision of a seamless transition from airport to hotel. Qeeq: Fast-growing car rental platform, listing over 7 million rental cars in ~200 countries

FAQs
1. What are private transfers, and how do they work?
When embarking on a journey with your fellow travelers, the concept of private transfers comes into play, particularly in the realm of airport transportation. Private airport transfers are an integral part of the modern travel experience, offering a level of comfort and convenience that is a cut above the rest. These transfers involve pre-booking your transportation to and from the airport, ensuring a smooth and hassle-free journey from start to finish.
Private airport transfers are designed to cater to the discerning traveler's needs. They involve a dedicated vehicle and driver exclusively for your group, allowing you to enjoy a higher degree of privacy and personalization. Whether you're a family, a group of friends, or a business delegation, this mode of transportation ensures that you travel in style, avoiding the hustle and bustle often associated with shared or public transportation options.
The process of securing a private airport transfer typically begins with your booking in advance. This entails providing details about your flight, including the arrival and departure times, as well as the number of passengers in your group. Once you arrive at your destination airport, a professional driver will be waiting to greet you, help with your luggage, and guide you to your comfortable and reserved vehicle. Throughout your journey, you can expect a smooth ride to your destination, free from any interruptions or detours, as the route is typically well-planned in advance.
2. What are travel transfers and how do they work?
Travel transfers, a pivotal component of any itinerary, play a crucial role in ensuring a seamless transition between the airport and your chosen accommodation. These transfers are thoughtfully arranged to streamline your journey, offering a vital link between the moment you touch down at your destination and when you finally check in at your hotel.
What sets travel transfers apart from other modes of ground transportation is their unique focus on efficiency, comfort, and convenience. Rather than navigating the unfamiliar territory of public transport or the uncertainties of taxi services, travel transfers are designed to provide a stress-free and enjoyable experience, making your transition from airport to hotel as smooth as possible.
Typically, the process of securing a travel transfer involves booking in advance through a reputable service provider or tour operator. When your plane lands, you can expect to find a friendly and professional driver waiting for you, holding a sign with your name. This personalized touch not only ensures that you easily locate your transfer but also adds a sense of security to your journey. Once you're settled in the vehicle, your driver will navigate the best route to your hotel, allowing you to relax and enjoy the surroundings as you're transported to your final destination.
3. What are the different types of transfer connections?
"Transfer Connections" isn't just a mere phrase; it's a visionary project that is sweeping across the University of Connecticut to revolutionize the transfer student experience. These students, although not new to the college scene, find themselves at a unique crossroads, facing their own distinct set of challenges and opportunities as they transition into their new academic environment.
The Transfer Connections initiative acknowledges the value and importance of transfer students within the university community. It seeks to create a supportive and inclusive atmosphere where these students can thrive and succeed. The program is designed to help transfer students seamlessly integrate into the university's culture, offering a helping hand to navigate the academic landscape and connect with the broader campus community.
This holistic approach recognizes that transfer students bring a wealth of diverse experiences and perspectives, enriching the campus environment. Through mentorship, academic resources, and a sense of belonging, Transfer Connections aims to empower transfer students to make the most of their educational journey, fostering a sense of belonging and ensuring they feel right at home within the university's academic family.
4. Is it possible to modify the date of your hotel reservation?
If you find yourself in a situation where you need to adjust the dates of your hotel reservation, it's crucial to understand that the feasibility of such modifications largely depends on the specific terms and policies set forth by the hotel. In some instances, you might be holding a nonrefundable hotel room reservation, which typically implies that any alterations to the reservation might come with certain constraints.
However, it's worth noting that even within this context, some hotels do extend a degree of flexibility. Andy Abramson, a professional in the communications industry hailing from Los Angeles, highlights that there are indeed cases where you can successfully request a change of dates for your reservation and possibly even secure a refund. These situations often require some negotiation and cooperation with the hotel's management.
5. What is the definition of a transfer service?
The term "Transfer Services" finds its significance within the domain of Third Party Transmission Providers in the context of electricity supply and distribution. These providers, often responsible for managing the intricate transmission system for electric energy and capacity, offer a suite of services that facilitate the seamless movement of these essential resources.
The services encompass not only the transfer of electric energy but also encompass the efficient distribution of said energy and capacity across their transmission system. In essence, Transfer Services involve a multifaceted operation that ensures the reliable conveyance of electric power, serving as a pivotal component in the complex network that underpins our modern electrical grid.
6. Is it possible to switch hotel bookings to a different hotel?
Should the need arise to change your hotel booking to an entirely different establishment, the feasibility of this endeavor primarily hinges on the booking terms and policies of both your current and intended accommodations. In general, modifying a reservation to switch to a different hotel can be a viable option, especially when you hold a confirmed reservation. This confirmation might be in your name, but it can also be under the name of a friend or colleague if you intend to transfer the booking to them.
The crucial factor here is ensuring that the new guest's information is accurately updated in the reservation records to prevent any hiccups during the check-in process. This flexibility, however, varies from one hotel to another, and it's advisable to consult the policies and procedures of both your current and prospective hotels to navigate the process effectively.
7. How can I secure a contract for a shuttle service between the airport and the hotels?
First and foremost, you must determine whether there is a need for this type of service in your region. Decent public transportation may be available (local bus company or metro, etc).
If there is a need for this service, the next step is to see if there is any competition. Is there any other private shuttle service that operates in that area? What can you do that they can't? If you're planning many routes, you've formed a limited business and purchased a car or vehicle.
After completing the preceding steps, visit the first hotel on your intended route and explain how your airport shuttle service would enhance and improve their guest experience.
You only need one or two hotels to join up, and then you can inform the next hotelier or general manager that their competitors are providing airport shuttle service to their visitors, and they will reconsider. Of course, you must ensure that your prices are comparable with those of local taxis. The majority of hotels will arrange for taxis to pick you up from the airport. Find Destinations, Hotel, Flight, Accommodation, Pickup

Moreover, based on my own experience, certain taxi firms may provide gratuities or commissions to the receptionists every time they call in for an airport pickup. As a result, you must include that cost in your budget. Try to provide a one-of-a-kind service to set yourself apart from the competitors.
Always be on time, courteous, and professional. I realize these are fundamental requirements, but I have experienced some dreadful airport shuttle services in several of the locations to which I have been.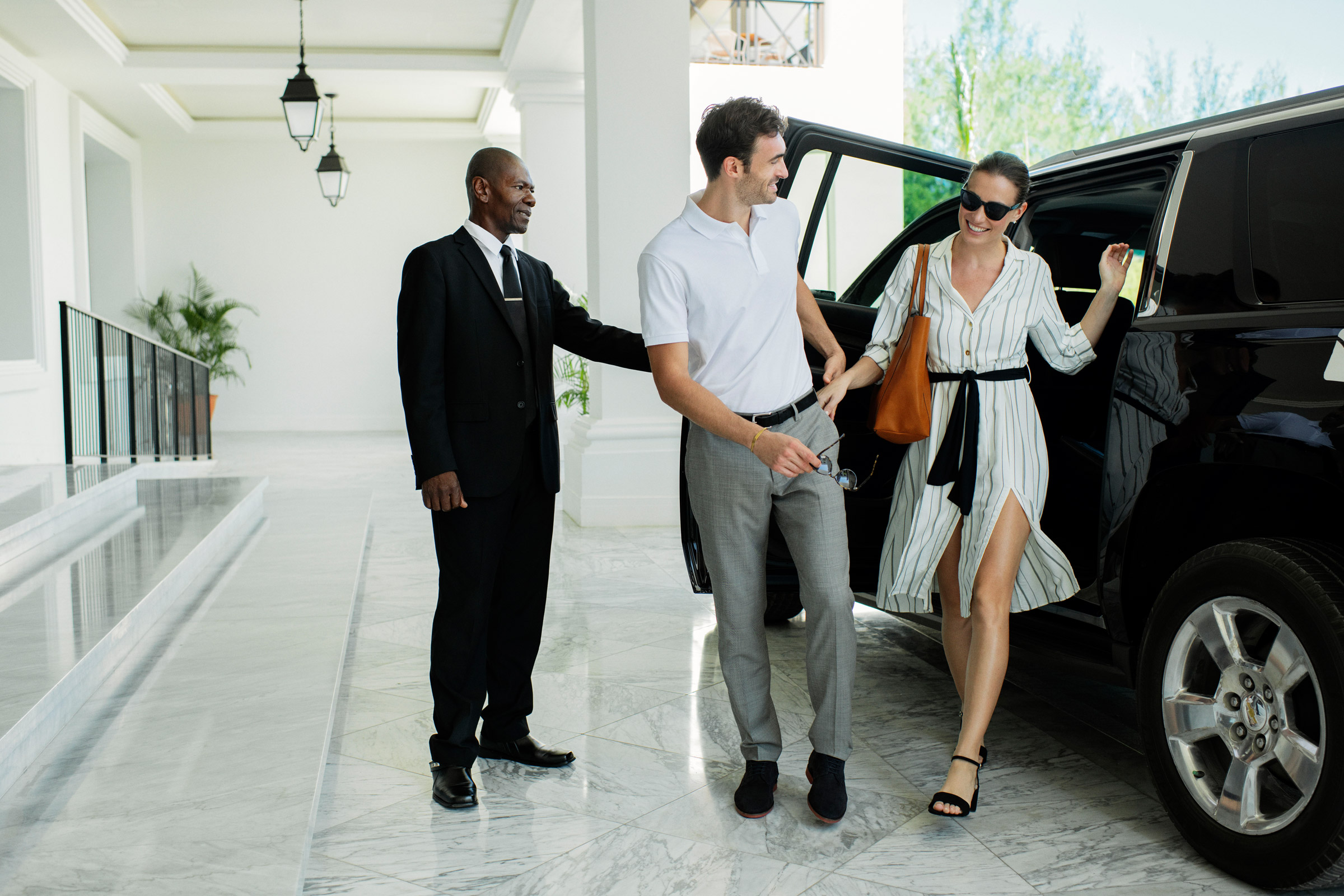 8. Is there transportation to and from the airport provided by the hotel?
When considering your journey to and from the airport, it's essential to be well-informed about the options available. The hotel in question, unfortunately, does not have a complimentary airport transportation service, nor does it impose any additional charges on its guests for this convenience. However, it's worth noting that the establishment does offer a responsive and accommodating approach to your travel needs.
If you find yourself in need of transportation to or from the airport, the hotel is more than willing to assist in making the necessary arrangements. This typically involves arranging for an airport pick-up service, where a designated driver will be poised to meet you at the airport's arrival area and subsequently transport you to the hotel.
9. How does the hotel-to-airport shuttle service work?
To ensure your seamless transition between the hotel and the airport, let's delve into the mechanics of their shuttle service. When your departure day arrives, the hotel has a well-structured system in place. Depending on the airline you've chosen for your travels, the hotel will have their vehicle waiting diligently outside, ready to transport you to your point of departure. The convenience doesn't end there. Upon your arrival at the airport, you'll discover an attentive airport employee stationed in the bustling arrival area, holding a personalized sign bearing your name.
This gesture ensures that you're swiftly identified and greeted with the utmost courtesy. This affable airport staff member will guide you to the awaiting car or shuttle with an effortless and welcoming demeanor. Moreover, should you require any assistance or have specific queries related to your travel, you can rest assured that the hotel's dedicated airport agent is at your service around the clock. This tireless availability spans seven days a week, a testament to their commitment to making your journey as stress-free as possible.
10. Is it possible to get free airport transfers?
The concept of obtaining free airport transfers can be an enticing one, and it's prudent to explore the various avenues through which this can be achieved. When it comes to these services, there are two primary approaches. First, they can be pre-arranged and pre-booked through a variety of channels, such as dedicated booking websites, professional travel agents, or reputable tour operators. This method, while not entirely free, allows for the convenience of securing your transportation needs well in advance, providing peace of mind for your travel plans.
On the other hand, there is another category of free airport transfers that travelers often encounter – those provided by hotels in the form of shuttle services. These complimentary hotel shuttles are a valuable offering, ensuring that you can swiftly and conveniently move between the airport and your accommodations without incurring any additional charges. It's essential to appreciate that such free services, offered by select hotels, add to the overall allure of your stay, further enhancing the value and convenience you derive from your choice of lodging.
11. Should I give a gratuity to the hotel shuttle?
When pondering whether to offer a gratuity to the driver of the hotel shuttle, the consideration of good service should be at the forefront of your decision-making process. Regardless of whether you've hopped on the airport shuttle or opted for the convenience of a personal driver to escort you to your hotel, the protocol remains the same – tipping is an expression of appreciation for a job well done. So, if your driver has gone the extra mile, it's only fair to reciprocate with a monetary token of gratitude.
The recommended standard for gratuity is approximately $1 to $2 per individual passenger, but if you're traveling as a group, a modest $4 to $5 would be appropriate. This not only reflects your appreciation for the service but also contributes to the driver's well-deserved earnings, potentially motivating them to continue providing exceptional service to other passengers as well.
12. What does the term "airport shuttle" mean?
The term "airport shuttle" encompasses a vital aspect of the modern transportation landscape, which we often encounter when embarking on journeys via air travel. Essentially, an airport shuttle, commonly referred to as an airport shuttle bus, serves as a dedicated mode of transportation designed to efficiently ferry passengers to and from airports. These purpose-built vehicles are characterized by a host of practical features, including generous luggage storage capacities, aimed at accommodating the baggage-laden voyagers frequenting airports.
Moreover, airport shuttles typically bear distinctive branding, clearly distinguishing them from other public transportation options. This distinctive branding not only enhances their visibility but also ensures that passengers can easily identify the shuttle as their designated mode of transport to the airport. In essence, the airport shuttle plays a pivotal role in simplifying the complexities of modern air travel, offering a convenient and reliable means of reaching and departing from airports.
13. What is the difference between an arrival transfer and a departure transfer?
In the realm of travel logistics, the distinction between an arrival transfer and a departure transfer holds significant importance, shedding light on the nuanced facets of the entire travel experience. Arrival transfers primarily concern themselves with ensuring the seamless flow of a traveler's journey. Their focus is to facilitate a smooth transition from the airport to the traveler's intended destination, be it a hotel, a conference center, or any other location. This is where first impressions are made, and the quality of service during an arrival transfer can set the tone for the entire trip.
On the other hand, departure transfers are more oriented towards business continuity and fostering long-term relationships. As the saying goes, "Every last impression should lead to a fresh one." Departure transfers are all about concluding a traveler's journey on a high note. These services are crucial in making sure that the traveler departs from their destination with the same level of comfort, punctuality, and professionalism that they experienced upon their arrival.
By providing a seamless departure experience, businesses, and service providers aim to leave a lasting positive impression on the traveler, potentially leading to repeat business, referrals, and the cultivation of a strong customer base. In essence, arrival transfers focus on the present, while departure transfers look towards the future, recognizing the importance of the entire travel journey and the lasting impression it leaves on the traveler.
14. Do you provide tips to wheelchair attendants at airports?
When it comes to navigating the bustling halls of an airport, wheelchair attendants play a vital role in ensuring the smooth transition of passengers with mobility challenges. But have you ever wondered about the proper etiquette when it comes to tipping these dedicated individuals? The customary practice is to express your appreciation by offering a gratuity, typically falling within the range of $3 to $5, although it's essential to note that this figure can fluctuate depending on the duration of the attendant's assistance and the extent of support they provide.
The concept of tipping wheelchair attendants at airports extends far beyond a mere financial transaction. It signifies a show of gratitude for their invaluable service and an acknowledgment of the often physically demanding task they undertake. The generosity of your tip can be influenced by factors such as the attendant's punctuality, the level of comfort they ensure during your journey, and their attentiveness to your needs. Ultimately, the gesture serves as a gesture of recognition for the indispensable role these individuals play in facilitating a seamless travel experience for those with reduced mobility.
15. What is shared transfer, and how does it work?
Shared transfers, a concept that has gained immense popularity in the realm of travel, offer a cost-effective and convenient solution for individuals or small groups embarking on journeys that coincide with similar flight schedules. This innovative service revolves around the principle of shared mobility, where travelers pool their resources to share a vehicle, typically a shuttle or car, en route to their respective destinations. The underlying goal? To maximize savings while minimizing the environmental footprint, all while fostering a sense of community among like-minded passengers.
At its core, shared transfers represent a symbiotic relationship between economics and ecology. By carpooling with fellow travelers whose flight times align with your own, you not only reap the benefits of substantial financial savings but also contribute to a reduction in the overall carbon footprint associated with airport transportation. Shared transfers exemplify the notion of efficiency and solidarity, transforming the often solitary act of traveling into a collective experience that can enrich your journey in ways beyond the mere financial aspects.
16. What is automatic share transfer and how does it work?
Automated share transfers, an integral facet of modern financial transactions, comprise a structured mechanism where funds are transferred from a customer's account to another account on a predetermined, periodic basis. This financial arrangement streamlines the process of moving money without the need for manual intervention. It often involves the automatic transfer of funds from one bank account to another, such as shifting funds from a checking account into a savings account. This process ensures financial discipline and adherence to savings goals, offering an effortless way to nurture your financial well-being.
In essence, automated fund transfers epitomize the fusion of convenience and fiscal prudence. By setting up these automatic arrangements, individuals can effortlessly allocate a portion of their income towards savings, investments, or even debt repayments, without the need for constant oversight. This financial automation not only simplifies money management but also cultivates discipline in adhering to financial goals. Whether it's building an emergency fund, saving for a dream vacation, or consistently chipping away at debt, automated fund transfers act as a dependable tool to make your financial aspirations a reality while reducing the cognitive burden of manual transactions.
17. What is the definition of a one-time transfer?
A one-time transfer, in financial parlance, is a singular transaction that can be executed at any moment. It involves the immediate deduction of a specified amount from the available balance within a checking or savings account, or from the available credit in a credit account. However, it's important to note that one-time transfers have a distinctive feature – they are solitary, non-recurring transfers.
They stand in contrast to future-dated or recurring transfers, which are meticulously planned to occur on designated dates. In cases where such transfers are scheduled for a weekend or a non-business day, the funds are debited from the funding account a day before the intended transfer date, ensuring that the transaction is processed promptly.
18. What does it cost to use an airport shuttle service?
The cost of availing airport shuttle services is a multifaceted matter, contingent on several factors that can significantly influence the final price. These factors encompass your point of arrival, your ultimate destination, and the type of vehicle you opt for. If you are budget-conscious and seeking a cost-effective solution, economy and smaller automobiles present themselves as prudent choices, allowing you to balance frugality and functionality.
However, for those desiring a touch of luxury and opulence in their airport transportation, there exists an array of premium options at your disposal, such as limousines or convertibles. The spectrum of choices available ensures that you can embark on your journey in style, and with just a few clicks, the enjoyable ride of your choice awaits.
19. What is the definition of an airport transfer?
An airport transfer serves as an elegant and hassle-free approach to navigating your journey from the airport to your chosen hotel, neatly sidestepping the often cumbersome processes of locating a rental car counter or hailing a taxi. Instead, it involves the seamless transport of both you and your luggage, directly from the airport to the welcoming confines of your selected hotel, all facilitated by an airport car service.
This simplification of your travel logistics allows you to assume a relaxed demeanor, recline in comfort, and leisurely savor the scenic views en route to your final destination. The elegance in this simplicity becomes manifest when you realize that a potentially daunting aspect of your journey has been streamlined for your convenience.
20.
What is the best way to acquire an airport shuttle service?
When it comes to procuring airport shuttle services, you're in the right place. The process is straightforward and begins with the input of essential details, which encompass your travel dates, flight particulars, and hotel information. Once these vital pieces of information have been provided, you merely need to hit the search button, and in a matter of moments, a plethora of options will be unveiled before you.
These options comprise a comprehensive array of ways to traverse the expanse from the airport tarmac to the welcoming precincts of your chosen hotel. Your journey begins here, where the ease and convenience of your airport transfer are just a few clicks away, all but ensuring a seamless start to your adventure.
Other Recommended Reading
Considerations While Smooth Hotel Transfers: 20 FAQs