(Last Updated On: March 8, 2022)
How to push yourself out of your comfort zone? Judith Bardwick, a management theorist, developed the term "comfort zone" in her 1991 book Danger in the Comfort Zone. There isn't much motivation for people to push themselves to new levels of performance while they're in their comfort zone.
People go about their daily routines without taking any risks, leading their advancement to stagnate. This article will feature tips on how to push yourself out of your comfort zone!

The transition from a person's comfort zone to their growth zone is crucial to their development. This journey, on the other hand, entails passing through several faces, including the fear zone, the learning zone, and eventually the growth zone.
How to push yourself out of your comfort zone
It takes bravery to go out of your comfort zone and into the danger zone. There's no way to build on prior experiences without a defined strategy. This might make you feel anxious. If you stick it out long enough, you'll reach the learning zone, where you'll pick up new talents and find creative solutions to problems.
1. Create a new hobby
Painting, dancing, learning a musical instrument, honing your voice, and learning to type are all good ideas. Neurons that fire together grow together, and there appears to be a link between having great ideas and doing something with your feet, mouth, or body. These kinds of things can help you transition from one phase to the next by lowering your confidence.
2. Take a Power Nap to recharge your batteries
If no one else at work does it, napping may seem out of the ordinary, yet it pays off: 20 minutes increases attentiveness, 30 minutes improves physical recovery, and 50 minutes increases creativity with applying the tendency of how to push yourself out of your comfort zone.
3. Take a quick choice
It isn't necessary to make a life-or-death choice. Everything from meal selection to shopping. Simply make a decision that is out of the ordinary for you without overthinking it.
If that's still too much for you, try flipping a coin. Yes, I'm being serious! Over the choice, toss a coin and stick to it. I do that all of the time and am always pleased I did (mostly).
The process of breaking out of our comfort zones is substantially accelerated when we don't have to think about a decision. Snap decisions also foster a sense of self-assurance. 'Just do it,' as they say.
4. Get rid of an undesirable habit
Breaking a negative habit is one of the most effective ways to practice moving out of your comfort zone. It doesn't matter if you're smoking, cursing, or slouching. Use this as a chance to break a habit you'd like to break, not just to practice moving out of your comfort zone, but also because it's beneficial for you.
5. Say "yes" more frequently
Even if you don't believe you're ready, say yes. If you're employed, say yes to new projects, responsibilities, and positions, even if you've never done them before you know about how to push yourself out of your comfort zone. It provides you with a plethora of job options. Who knows, you could discover something you've never had the opportunity to try before.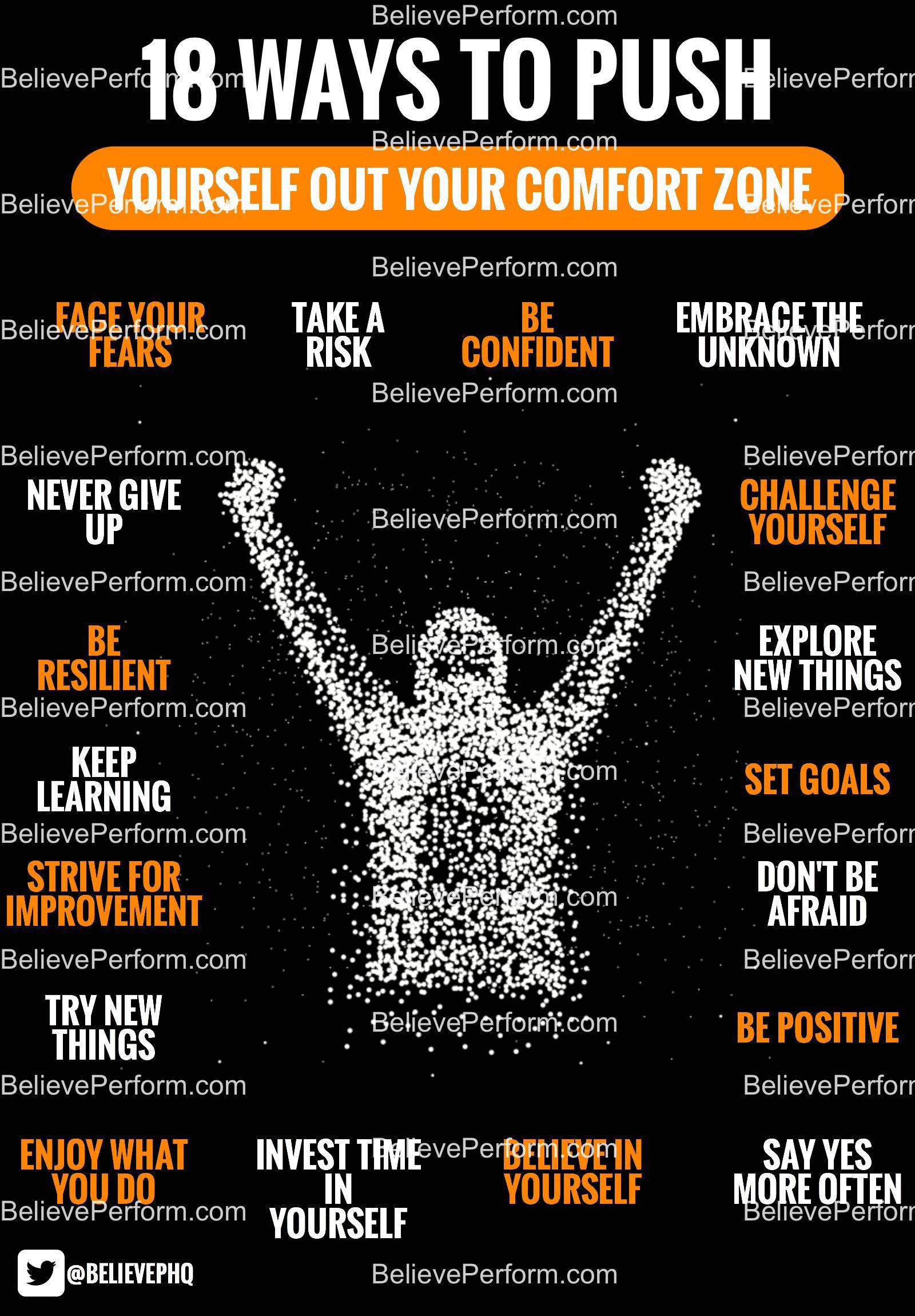 6. Don't be scared to do what you're frightened of.
Create a new mentality. Is this anything that frightens me? Then it's up to me to do it. That is how you overcome fear. It never goes away; all you have to do is learn to ride it.
Create challenges for yourself to push you in the areas where you wish to grow.
Choose a few challenges (and associated triggers) for yourself that will push you out of your comfort zone in areas where you wish to improve.
• You must approach a lovely female (trigger) the next time you see her (challenge).
• Ask for a 10% discount the next time you buy a cup of coffee (trigger) (challenge).
• The next time you make eye contact with a stranger (trigger), maintain it until they look away (challenge).
• Instead of merely replying "good," say "wonderful" or "amazing" the next time someone asks how you're doing (trigger) (challenge).
Don't offer any excuses; just focus on these triggers. After a while, it'll become second nature.
7. Make a charitable donation
Giving rather than getting benefits you in a variety of ways. In the case of charity, helping rather than merely donating money provides the most value (which IS still important). The reason for this is that the setting is not the same as where you work.
8. Frequently, you will be asked to use skills that you don't have the chance to use in your day-to-day life, or you may be asked to try something new. You are making a difference to yourself and others in any case.
9. Make friends with folks who aren't in your field of employment
Hanging out with someone whose job is entirely unrelated to yours is a fantastic way to learn new things, gain a new perspective, and expand your circle of influence with how to push yourself out of your comfort zone.
10. Make modest goals that contribute to a larger aim.
Do you want to do something huge and crazy? Break the major objective down into smaller targets that may be difficult to achieve but will show you the way forward. If you want to run a marathon, start small by focusing on a 5k (3 miles), then a 10k, then a half-marathon, and so on. You don't always have to address all of your discomforts at once; you might do it gradually.
Take away
Moving into the development zone, like other behavioral change attempts, becomes more difficult without some level of self-awareness. The inspirational living team has put together a list of measures that will assist you in making a seamless shift from the safe zone to the development zone. This article should be a good one on how to push yourself out of your comfort zone.

More Interesting Articles
10 Hacks on How To Push Yourself Out of Your Comfort Zone